Temporary equipment is backbone of construction. Therefore, the quality of equipment matters in every construction project. Sansin Sangyo thrives to give quality service with quality goods as part of our day to day rental service.
For this reason, we have adopted the catchphrase 'Visualization of Peace of Mind' and have been providing quality and safer materials through cleaning, repairing and refurbishing the materials before renting it to our customers.

Inspection
The returned scaffolding and equipment is checked and then separated for cleaning, repair and maintenance. Our train staff makes sure that all the equipment is well-maintained and is in the best condition for our customers.
Refurbishment
All maintenance is carried out in accordance to our strict maintenance standards. All equipment is inspected and stored to ensure the best condition for delivery. To increase efficiency or professional staff uses automatic Keren Machines (heavy cleaning devices). With this process we are able to meet the demands of our customers and maintain our strict quality standards.
Repair
All damaged equipment will be repaired by our professional staff. Before the equipment can be delivered to a customer it must pass our rigorous safety and quality standards.
Cleaning
All equipment is cleaned with high pressure washers to remove paint, dirt, concrete and other materials. After the equipment is cleaned it has to pass our rigorous safety and quality control standards before they are reused.
Center head's Meeting
In order to maintain consistency and quality control, once a month mangers from our 17 scaffolding rental centers have a meeting to exchange information and ideas.
Certification of Factories
All our rental Centers are recognized and registered under Scaffolding and Construction Equipment Association.
Model Factory Certification
Model Factory Certification is provided by 'Scaffolding and Construction Equipment Association' only to those outstanding factories throughout the nation. Our two equipment centers, Fukuoka Scaffolding Rental Center and Oita Minami Rental Center has been selected and certified as 'Model Factor'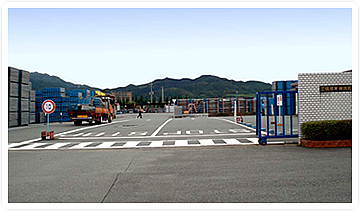 Fukuoka Rental Center
(H21.01.01 Certified Model Center)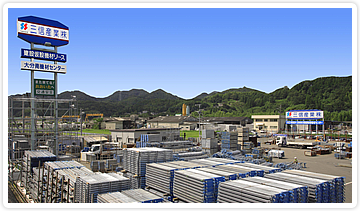 Oita Minami Rental Center
(H21.01.01 Certified Model Center)
Established in 1974, Sansin Sangyo Co., Ltd. stands to be the first scaffolding and construction equipment rental company in Oita prefecture. In January 2006, because of our dedication and performance, two of our rental centers were certified as 'Model Factory' by 'Scaffolding and Construction Equipment Association (Tokyo)' There are only 2 companies with certified 'Model Factory' in Kyushu region and 5 companions thought-out Japan which has 'Model Factory'. We are very proud to be selected as one of them and we continue to dedicate ourselves to serve our customers and continue to deliver relief to the construction world through our equipment and service.
Temporary Equipment Model Factory
'Scaffolding and Construction Equipment Association' selects and approves the 'Model Factory' certification only after a careful analysis of product management, safety management and factory management of a company.