Sansin Sangyo takes pride in meeting all types of request from the construction world. By being a diverse company, Sansin Sangyo is able to provide the needs of the construction world. We are always aware of safety; therefore we install the safest scaffoldings to prevent injury and other accidents.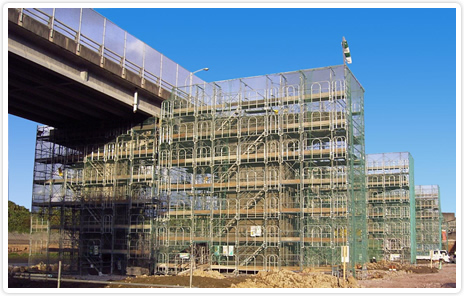 Danger is always present on construction sites and an alarming 50% of industrial accidents are due to improper use of scaffolding. For this reason and for the safety of our valuable customers, Sansin Sangyo voluntarily patrols customer's construction sites.
During our patrols our staff checks for damages, rust, proper use and installation of handrails and most important of all we see if the scaffolding is securely assembled or not. Our Professional staff conduct regular patrols based on a safety check list with over 20 check points.
The unchanging basic rule for Sansin Sangyo group is "Safety is our first priority"